TESOTA Anti Splashing Tape TH-AS100 Spray-Stop Tape Antispray Tape CCS ABS DNV
Product Detail
Product Tags
TESOTA Anti-splashing Tape General description
Marine Anti-Spraying Tape / TESOTA Anti-splashing Tape is a fire protection system especially designed for the marine use age or on land with a high-tech,mainly to prevent hot oil or other hot fiuids leak from the piping in the splash which can come into contact with the hot surface or circuit,may cause fire ,explosion and other extremely dangerous disaster.
According to SOLAS regulation FRASǁ-2/15.5.11,ǁ-2/15.3ǁ-2/15.4,require oil fuel, lubricating oil and other flammable oil piping, respectively , to be screened or other wise suitably protected to avoid as far as oil splashing or drip, the pipeline protection system should be consist with IMOA653 (6) requirements.
TESOTA Anti-splashing Tape Technical specification
The TESOTA Anti-splashing Tape is produced from materials of the highest quality, selected in such way as to ensure the best protection against high pressure, high temperature while maintaining the elasticity necessary for a quick and easy installation.
Physical properties and performed test
Model : TH-AS100
Color: silver
Thickness: 0.355MM
Temperature range: up to 160℃
Pressure range : up to 1.8Mpa
Certificate:CCS /ABS/DNV/CLASS NK / RINA /KR
Shelflife: indefinite shelf life when properly stored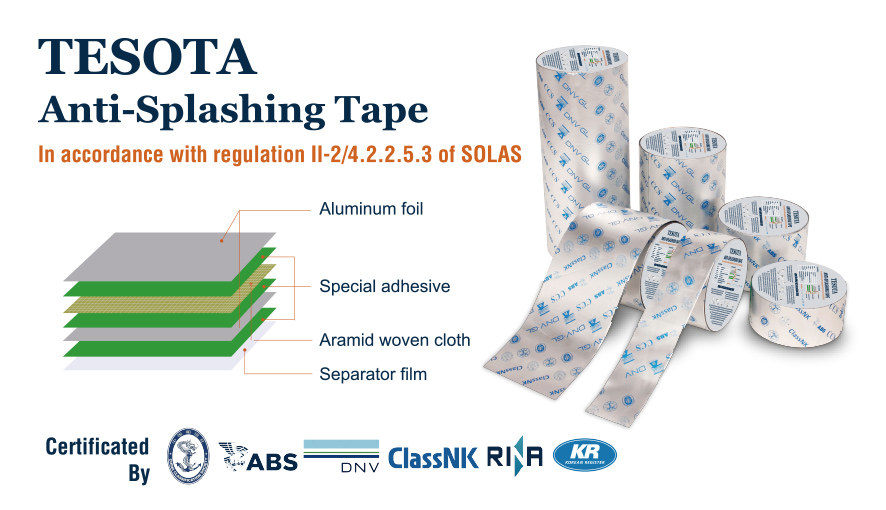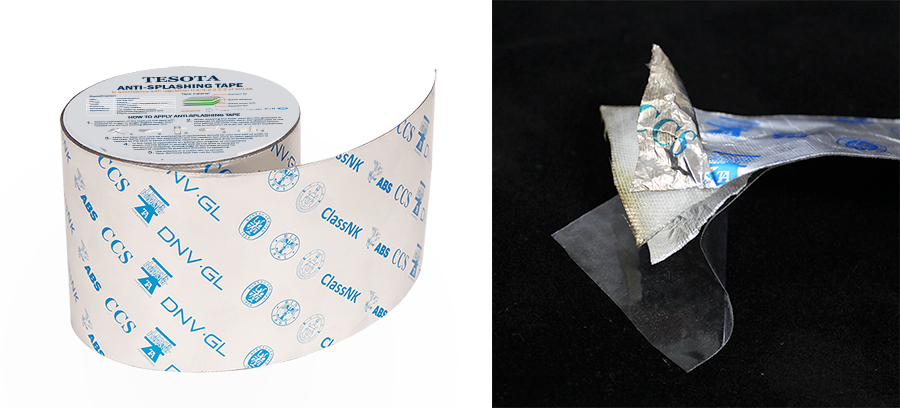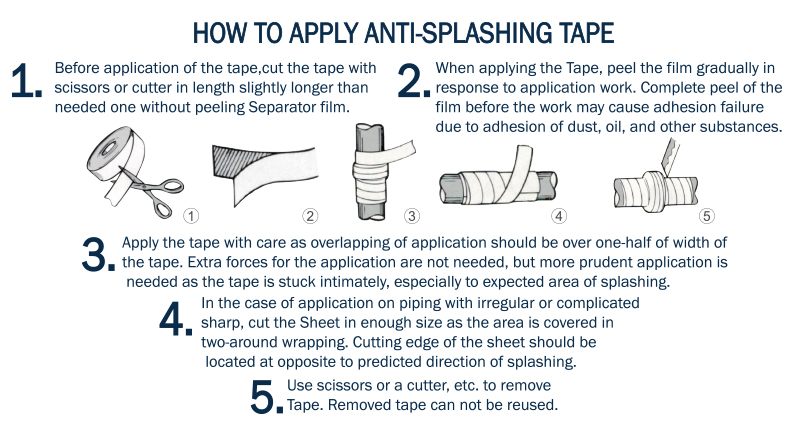 TESOTA Anti-splashing Tape Application
We service pipes,pumps,strainer and purifier,heater and cooler,tray and other device fuel tube oil, hydraulic oil and other fiammable oil, oil-fired boiler, thermal,heater,inert gas generator,The above flamable part need special protection from potential exposure to fire sources: Boiler,heater,incinerator,exhaust gas pipe, steam,pipe,steam pipe,turbochafrom potentialrger,electronic veldinn snatter,cinarette and etc.

| | | |
| --- | --- | --- |
|  CODE | DESCRIPTION | UNIT |
|  871801 | TAPE ANTI-SPLASHING 35MMX10MTR, CCS ABS CLASS NK DNV RINA KR | RLS |
|  871802 | TAPE ANTI-SPLASHING 35MMX10MTR, CCS ABS CLASS NK DNV RINA KR | RLS |
|  871803 | TAPE ANTI-SPLASHING 35MMX10MTR, CCS ABS CLASS NK DNV RINA KR | RLS |
|  871804 | TAPE ANTI-SPLASHING 35MMX10MTR, CCS ABS CLASS NK DNV RINA KR | RLS |
|  871805 | TAPE ANTI-SPLASHING 35MMX10MTR, CCS ABS CLASS NK DNV RINA KR | RLS |
|  871806 | TAPE ANTI-SPLASHING 35MMX10MTR, CCS ABS CLASS NK DNV RINA KR | RLS |
|  871807 | TAPE ANTI-SPLASHING 35MMX10MTR, CCS ABS CLASS NK DNV RINA KR | RLS |
|  871808 | TAPE ANTI-SPLASHING 35MMX10MTR, CCS ABS CLASS NK DNV RINA KR | RLS |
---
---
Write your message here and send it to us