PVC Flexible Ventilation Tube
Product Detail
Product Tags
Ducting Vent Tube
Made of fire retardant PVC fabric, helix steel wrapped, and covered with a rubber strip.
The PVC duct vent tube allows air to travel through helix wire-framed ducting, circulating fresh air or removing unwanted air. One end of the flex duct can be attached via strap to a ventilator, and the ducts can be attached to one another, inter-connecting them, using the same strapping method. The PVC fabric of the duct ensures fire-resistance, and the exit end is fortified with a steel collar. The fabric of the duct ensures heat-resistance and can endure aging, burning, and acid.
Applications
These flexible duct products may be used in any environment with damaging chemicals, especially as floor ducting in a laboratory, or as lightweight ventilation in an attic or basement.Great for heating, air conditioning, dehumidification, blower, ventilation and exhaust jobs in a variety of industrial, residential, and construction applications.
Features:
1.Spring steel wire helix resists collapse under negative pressure
2.Black reinforcement strips covering wire ensure long service life
3.Adjustable clamp for easy adjustment
4.with rope entrance. Helix steel, rubber wrapped striping coils around the PVC flexible duct. The open ends are
fortified with a steel collar.
5.Able to withstand temperatures between -4°F to +176°F (-20°C
to +80°C) and repels oleic acid, water and is tear resistant.
6.Light weight for easy use and installation. Rolls up flexibly for
easy transportation.
7.Made of strong biaxial polyester.
8.Using double skin coated craft
9.High tensile, shockproof, water proof, uninflammable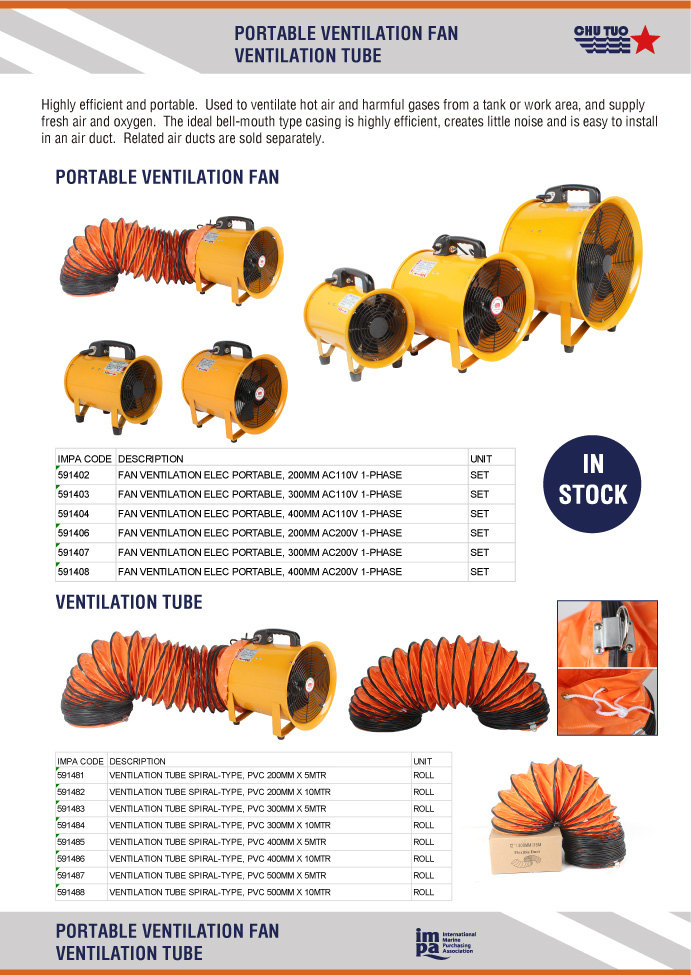 | | | |
| --- | --- | --- |
| | DESCRIPTION | UNIT |
| | VENTILATION TUBE SPIRAL-TYPE, PVC 200MM X 5MTR | LGH |
| | VENTILATION TUBE SPIRAL-TYPE, PVC 200MM X 10MTR | LGH |
| | VENTILATION TUBE SPIRAL-TYPE, PVC 300MM X 5MTR | LGH |
| | VENTILATION TUBE SPIRAL-TYPE, PVC 300MM X 10MTR | LGH |
| | VENTILATION TUBE SPIRAL-TYPE, PVC 400MM X 5MTR | LGH |
| | VENTILATION TUBE SPIRAL-TYPE, PVC 400MM X 10MTR | LGH |
| | VENTILATION TUBE SPIRAL-TYPE, PVC 500MM X 5MTR | LGH |
| | VENTILATION TUBE SPIRAL-TYPE, PVC 500MM X 10MTR | LGH |
| | VENTILATION TUBE SPIRAL-TYPE, PVC 600MM X 5MTR | LGH |
| | VENTILATION TUBE SPIRAL-TYPE, PVC 600MM X 10MTR | LGH |
| | VENTILATION TUBE SPIRAL-TYPE, PVC 700MM X 5MTR | LGH |
| | VENTILATION TUBE SPIRAL-TYPE, PVC 700MM X 10MTR | LGH |
---
---
Write your message here and send it to us