Electric Descaling Chain Machine KP-400E
Product Detail
Product Tags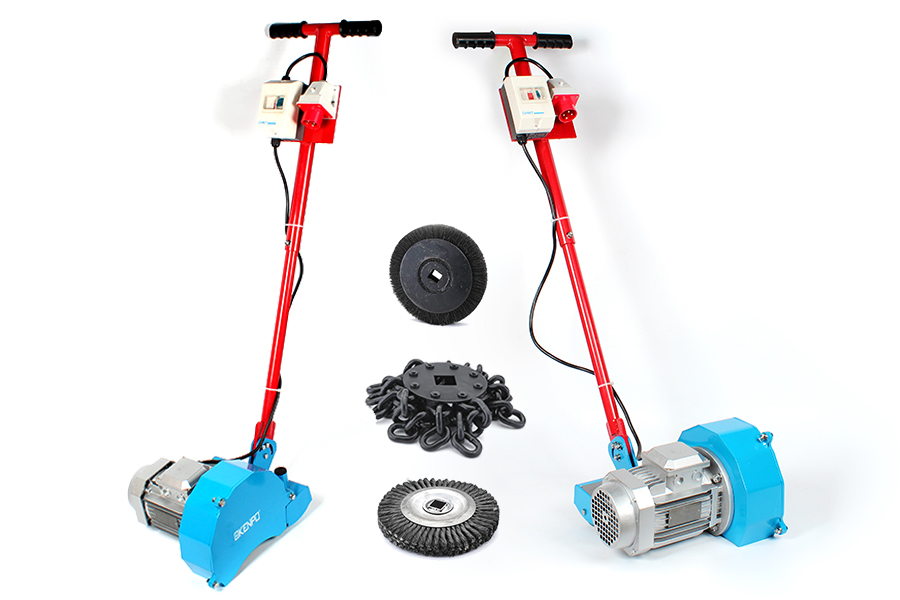 Electric Deck Scaling Machine
Electric Deck Chain Scaler
The Rustibus 400 type Electric Descaling Chain Machine KP-400E is Developed for de-scaling along edges, smaller areas and spot scaling surfaces. The use and fast replacement of specially prepared chain links is the key to this quick and efficient surface treatment. This machine uses a disposable chain drum system with specially prepared chain links that deliver 28,000 of blows perminute and this is the key to its quick and efficient method of surface preparation.
APPLICATIONS
● Removal of hard coatings
● Removal of painted lines
● Removal of coatings and scale from steel surfaces
Main Features:
■ Excellent heavy duty descaling with superior surface result.
■ S ingle person operating to deliver 22000+ powerful chain strikes per minute.
■ Telescopic 2-piece handle bar design enable easy storage & carry.
■ Adjustable tilt angle of handle bar to comfort every single user.
■ Disposable Linked-chain Drum requires no spares replacement.
■ Selected high performance electric motor and famous brand components.
■ Auto Stop function when overheat / overload, & undervoltage (380V/440V type only) .
■ Dust-proof cover also preventing accidental access to moving parts.
■ Special TWO bottom wheels, move conveniently.
■ Exquisite metal chassis with Vacuum Port Outlet.
■ Stainless steel Brush Drums available for options.
Technical Specifications
Working Track
40mm (1-1/2")
Capacity Approx.
6 m2 (64 ft2 )
Surface Result
Up to ST3 +++ (SSPC-SP11 +++)
Voltage
  AC110V
AC220-240V
 AC380-420V
AC440-480V
Phase / Connection Way
Single
Single
Three
Three
Three
Rated Current(Amp)
8.6
7.2
35
2
2
Motor Power
1

.1KW

0

.75KW

0.88KW
0.75KW
0.88KW
Power Frequency
60HZ
50/60HZ
60HZ
50HZ
60HZ
Speed (Free Load Rpm)
1730
1440/1730
1690
1390
1690
Vacuum Port Outlet
O.D. 32 mm (1 1/4")
Outline Dimensions
L: 1150mm (45") / H: 950mm (37 1/2") / W: 360mm (14")
Weight
31 Kgs (68 Lbs)
Assembly and Parts List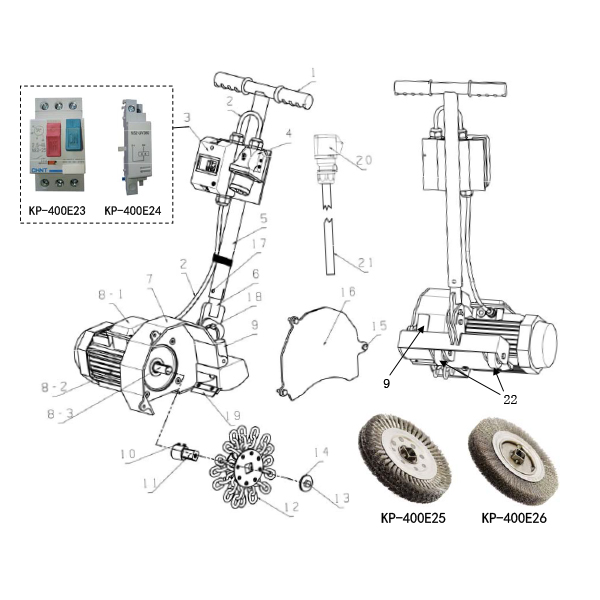 | | | | | | | | |
| --- | --- | --- | --- | --- | --- | --- | --- |
| No | Part No. | Parts Name | Pcs | No | Part No. | Parts Name | Pcs |
| 1 | KP400E01 | Handle Cover 2 | | 11 | KP400E11 | Motor Shaft Adaptor | 1 |
| 2 | KP400E02 | Cables | 2 | 12 | KP400E12 | Disposable Chain Drum | 1 |
| 3 | KP400E03 | Switch Box | 1 | | KP400E25 | Twisted Wire Brush Drum | |
| | KP400E23 |  Circuit Breaker | 1 | | KP400E26 | Crimped Wire Brush Drum | |
| | KP400E23 | Voltage Trip (380V/440V type only) | 1 | 13 | KP400E13 | Drum Fixing Bolt | 1 |
| 4 | KP400E04 | 4-pin Plug | 1 | 14 | KP400E14 | Drum Fixing Washer | 1 |
| 5 | KP400E05 | Handle Bar-1 | 1 | 15 | KP400E15 | Chassis Cover Fixing Bolt | 1 |
| 6 | KP400E06 | Handle Bar-2 | 1 | 16 | KP400E16 | AL. Chassis Cover | 1 |
| 7 | KP400E07 | AL. Chassis | 1 | 17 | KP400E17 | Handle Fixing Bolt | 1 |
| 8-1 | KP400E08.01 | Motor Connection Cover | 1 | 18 | KP400E18 | Handle Tilting Bolt | 1 |
| 8-2 | KP400E08.02 | Motor Main Body | 1 | 19 | KP400E19 | Dust Collector | 1 |
| 8-3 | KP400E08.03 | Motor Shaft | 1 | 20 | KP400E20 | 4-pin Socket | 1 |
| 9 | KP400E09 | Vacuum Port Outlet | 1 | 21 | KP400E21 | Extension Cable | 1 |
| 10 | KP400E10 | Shaft Fixing Pin | 2 | 22 | KP400E22 | Bottom Wheel | 2 |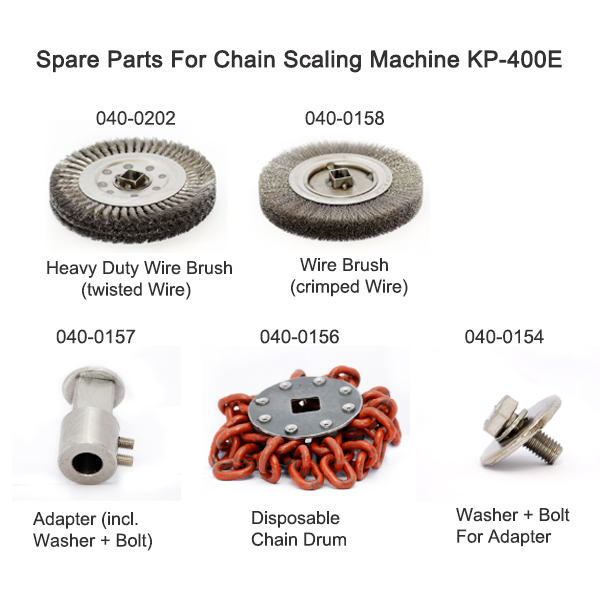 | | | |
| --- | --- | --- |
| | DESCRIPTION | UNIT |
| | SCALING MACHINE LIGHT ELECTRIC, KENPO KP-400E W:40MM AC220V 1P | SET |
| | SCALING MACHINE LIGHT ELECTRIC, KENPO KP-400E W:40MM AC220V 3P | SET |
| | SCALING MACHINE LIGHT ELECTRIC, KENPO KP-400E W:40MM AC440V 3P | SET |
| | CHAIN DRUM DISPOSABLE FOR, SCALING MACHINE KENPO KP-400E | PCS |
---
Previous:
Pneumatic Wrench 3/4″
---
Write your message here and send it to us