Electric Scaling Machine KP-50
Product Detail
Product Tags
Electric Scaling Machine
Sediments like rust, corroded film, paint and adhesive can be removed in an ideal way. It can be applied to deck and tank bottom.
Main Features
It is convenient to carry the pulley rack.
With automatic cover-temperature protections system of motor, it can prevent overheating damage.
Various consumable items can be stored in the warehouse, and they can replace each other according to the requirements in the machine.
APPLICATIONS
● Removal of hard coatings
● Removal of painted lines
● Removal of coatings and scale from steel surfaces
Technical Specifications
| | | |
| --- | --- | --- |
| Power(W) | 1100 | 1100 |
| Voltage(V) | 220 | 110 |
| Frequency(HZ) | 50/60 | 60 |
| Electric Current(A) | 13/6.5 | 5.5 |
| Working Rotating Speed(RPM) | 2800/3400 | 3400 |
Assembly and Parts List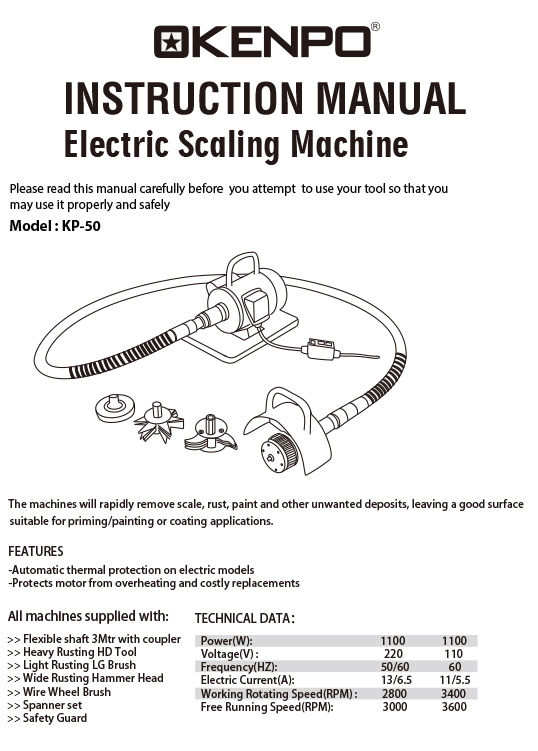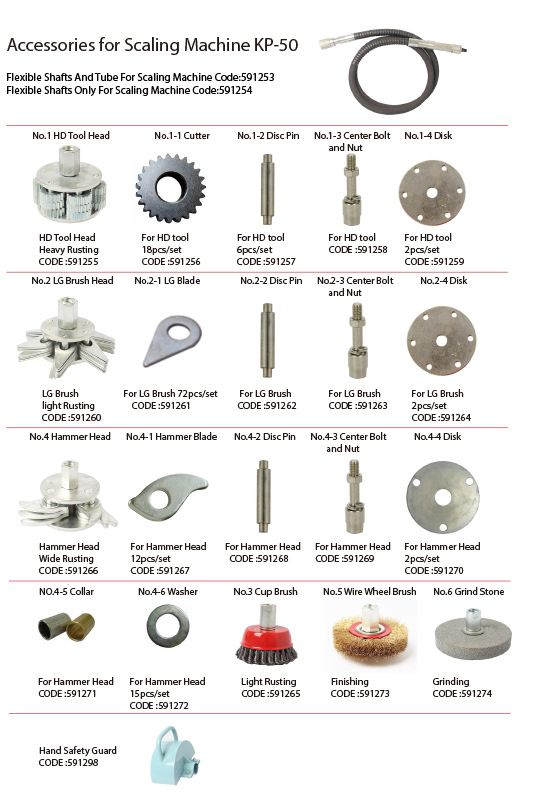 | | | |
| --- | --- | --- |
| | DESCRIPTION | UNIT |
| | SCALING MACHINE ELECTRIC, KC-50 AC100V 1-PHASE | SET |
| | SCALING MACHINE ELECTRIC, 3M4 AC110V | SET |
| | SCALING MACHINE ELECTRIC, KC-50 AC220V 1-PHASE | SET |
| | SCALING MACHINE ELECTRIC, 3M4 AC220V | SET |
| | SCALING MACHINE ELECTRIC, TRIDENT NEPTUNE AC110V | SET |
| | SCALING MACHINE ELECTRIC, TRIDENT NEPTUNE AC220V | SET |
| | HD TOOL ASSEMBLY P/N.1, FOR SCALING MACHINE KC-50/60 | SET |
| | HD TOOL CUTTER P/N.1-1, FOR SCALING MACHINE KC-50/60 | PCS |
| | HD DISC PIN P/N.1-2, FOR SCALING MACHINE KC-50/60 | PCS |
| | HD CENTER BOLT & NUT P/N.1-3, FOR SCALING MACHINE KC-50/60 | PCS |
| | HD DISC P/N.1-4, FOR SCALING MACHINE KC-50/60 | PCS |
| | LG BRUSH ASSEMBLY P/N.2, FOR SCALING MACHINE KC-50/60 | SET |
| | LG BLADE P/N.2-1, FOR SCALING MACHINE KC-50/60 | PCS |
| | LG DISC PIN P/N.2-2, FOR SCALING MACHINE KC-50/60 | PCS |
| | LG CENTER BOLT & NUT P/N.2-3, FOR SCALING MACHINE KC-50/60 | PCS |
| | LG DISC PIN P/N.2-4, FOR SCALING MACHINE KC-50/60 | PCS |
| | WIRE CUP BRUSH P/N.3, FOR SCALING MACHINE KC-50/60 | PCS |
| | HAMMER HEAD ASSEMBLY P/N.4, FOR SCALING MACHINE KC-50/60 | SET |
| | HAMMER HEAD BLADE P/N.4-1, FOR SCALING MACHINE KC-50/60 | PCS |
| | HAMMER HEAD DISC PIN P/N.4-2, FOR SCALING MACHINE KC-50/60 | PCS |
| | HAMMER HEAD CENTER SHAFT 4-3, FOR SCALING MACHINE KC-50/60 | PCS |
| | HAMMER HEAD DISC P/N.4-4, FOR SCALING MACHINE KC-50/60 | PCS |
| | HAMMER HEAD COLLAR P/N.4-5, FOR SCALING MACHINE KC-50/60 | PCS |
| | HAMMER HEAD WASHER P/N.4-6, FOR SCALING MACHINE KC-50/60 | PCS |
| | WIRE WHEEL BRUSH 4" P/N.5, FOR SCALING MACHINE KC-50/60 | PCS |
| | GRINDING STONE 4" P/N.6, FOR SCALING MACHINE KC-50/60 | PCS |
| | SHAFT & TUBE FLEXIBLE FOR, SCALING MACHINE WITH DETAIL | PCS |
| | SHAFT FLEXIBLE FOR SCALING, MACHINE WITH FURTHER DETAIL | PCS |
---
Previous:
Pneumatic Derusting Brushes SP-9000
---
Write your message here and send it to us