High Pressure Washer 220V 3PH 220BAR
Product Detail
Product Tags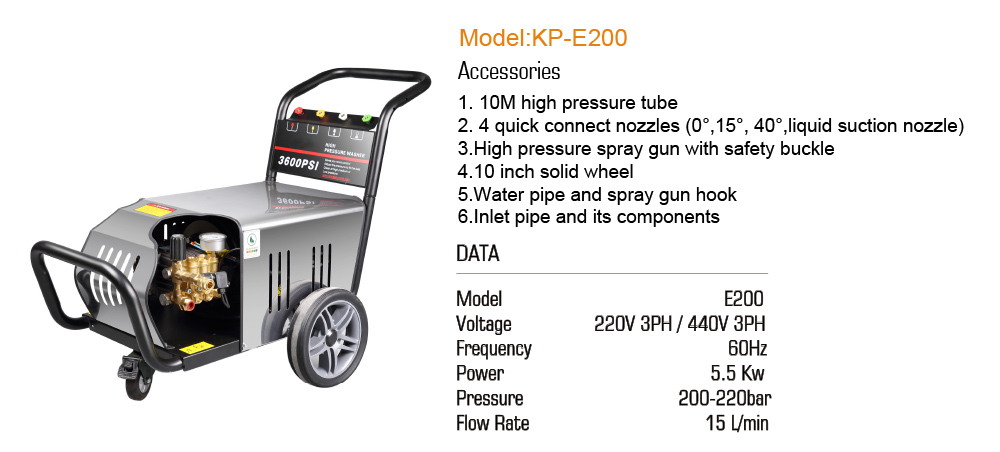 High Pressure Washer/Marine High Pressure Cleaner
Voltage: 220V  3PH
Frequency :60HZ
Pressure: 220BAR
Designed for general purpose cleaning tasks in multiple industries.   These high pressure cleaners are used for daily cleaning of machinery, vehicles, and buildings, for the removal of stubborn dirt, stains and other debris from multiple surfaces.   Available 3 types of power supply, AC110V, AC220V or AC440V.  All pump materials, fittings and pipes in contact with water are non-corrosive.
KP-E200 is a very durable, marine type Hydro blasting machine, with a high-performance crank-shaft pump, ceramic pistons and heavy duty high pressure hose of 640bars working pressure and 220bars burst pressure. Necessary water supply pressure is ONLY 0.50 BAR.
Application
1. Automobile service: Cleaning service in car wash yard and car repair and decoration shops.
2. Hotel: Cleaning for outside of building, glass walls, lobby, steps, heat supply boiler room,
kitchen parking lot and public areas.
3. Municipal works and Sanitation: Cleaning for flue, plaza, public sanitation works advertisement
paper on the wall, garbage truck, garbage can and garbage room.
4. Construction Industry: Cleaning for outside of building, concrete ready mix center, decoration
service with oil or not easily cleaned dirt, transportation vehicles.
5. Railway Industry: Clean for train, chassis, shaft bearing of the train, dirt on stationand channel.
6. Tobacco and Medicine Industries: Stirring equipment, production lines,transportation vehicle,
production workshops, tubes, medicine trough and dirt in chemical cans.
7. Machine Making Industries: Cleaning for oil dirt and scaliness on equipments,floor, workshops
and pipes, cleaning for casting and mould.
8. Food/Fermentation: Cleaning for equipment, stirring machines, production lines,fermentation can,
tube and oils and dirt on the floor.
9. Oil field/Petroleum and Chemical Industries: Cleaning for drilling platform and other equipments,
oil can trucks, scaliness and oil dirt in oil pipelines and production equipment in oil factory.
10. Papermaking/Rubber Industries: Cleaning for the chemical sediments in equipment, floor and
water trough.
11. Airplanes/Ships/Vehicles: Cleaning for paint spray booth, machines, paintings on the floor,
cleaning for airstrip and board on the ships.
12. Electricity/Water Control Projects: Cleaning for power distribution transformer,condensator,
dust content emitting system of boilers, and the cleanness for pipes.
13. Logistics/Storage: Cleaning for transportation vehicles and workshops.
14. Metallurgy/Foundry: Cleaning for dirt on equipment of iron-making and steelmaking and
rolling and cleaning for dirt on the floor, cleaning sand, paints and rusty dirt on steel casting.
15. Mining Industry: Cleaning for mine cars, transportation belts, underground working lines and
air well, clearance for stems due to coals and stones.
16. National Defense Industries: Cleaning for residues in ammunition depots.
| | | |
| --- | --- | --- |
| | DESCRIPTION | UNIT |
| | CLEANER HIGH PRESSURE ELECTRIC, C200E AC220V 7.5HP 16.5LTR/MIN | SET |
| | CLEANER HIGH PRESSURE ELECTRIC, C200E AC440V 7.5HP 16.5LTR/MIN | SET |
| | HIGH PRESSURE CLEANER ELECTRIC, HPC54/1 200BAR 440V 3-PHASE | SET |
---
Previous:
Pneumatic Chipping Hammer
---
Write your message here and send it to us